This month, ESPN's 30 for 30 series released Daniel Gordon's "George Best: All By Himself." This documentary on the Manchester United star is unique as it focuses on how Best's rise to fame and sudden demise has served as a warning to future footballers.
1. Best's move to Manchester almost didn't last. 

The young George Best left Belfast for Manchester to join the Red Devils in his early teens. Despite making the trip with a childhood friend Eric Mc Mordie, the young footballer quickly returned to Northern Ireland after only two days. Anne, Best's mother, describes her son as being "frail" and "shy"  during his youth which helps explain the teen's sudden homesickness.
2. The first celebrity-footballer. 
Best was not only an attraction on the field but also in the media and popular culture. Throughout the documentary, we see how the footballer's time in the spotlight made him a fashion icon, rock-star, and advertising machine in a short period. Modern footballers like David Beckham and Cristiano Ronaldo consequently owe their level of fame – and marketability –  to Best.
As Gordon explains: "He's probably best described as football's first pop superstar player. I can't think of another player like him in the world. He emerged out of a very dour and austere Manchester in post-war Britain, just as the Beatles were hitting in Liverpool (which is only just down the road). He was even often called the Fifth Beatle, and the Portuguese press dubbed him "El Beatle." Best was sexy, good looking and attractive to men and women alike. The men just wanted to be like him, see him play, copy his hairstyle and clothes, while the women started to go to games just to watch George Best — there was a lot of hysterical screaming, just like with the Beatles."
3. Developing the 'Beautiful Game' in the United States.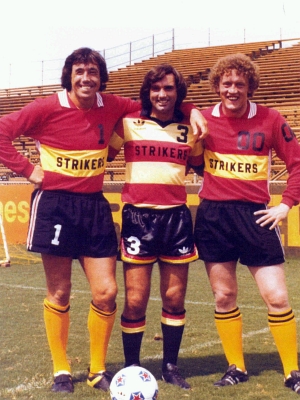 Although no longer at the peak of his game, Best's arrival to the United States helped elevate the level of play in the North American Soccer League (NASL). The former Red Devil joined the Los Angeles Aztecs in 1976 and played alongside greats like Gordon Banks, Pelé, and Franz Beckenbauer.
In a recent interview, Gordon explained how players like Best helped grow football in the U.S. pave the wave for Major League Soccer :  "In the '70s, there was a massive explosion of soccer in the U.S. You had to have five homegrown players (who weren't usually very good) on a team, but could have six international mega-stars, so there would be huge World Cup winners and massive Premier League players coming to the U.S. for a summer season with all the razzmatazz you would only have in America. The stadiums were absolutely filled, it was an amazing time laid the ground for what is going on now."
Unfortunately, Best's alcoholism caused problems for the Aztec's, and he was soon traded to the Fort Lauderdale Strikers in 1978 and then finally to the San Jose Earthquakes two years later. "El Beatle" never fully regained his skills yet during his time in the NASL he would have moments of brilliance such as this goal which was selected as the 1981 Budweiser Goal of the Year.
In the documentary, Best admits that he was sober during this time yet he soon relapsed after receiving the award with a twenty-two-day bender.
4. The true toll of alcoholism 
Despite going through two divorces and one liver transplant, Best's disease would not allow him to live a regular life. Gordon's work does not shy away from Best's downward spiral as it was well-documented in UK tabloids. Sadly, the last photo taken of Best featured him on his deathbed and was sold by his agent to the press as a "world exclusive."
5. The Best example of what not to do:
When he was famously interviewed by Sir Alex Ferguson, Best asked: "what would you have done with me?" An embarrassed Ferguson told him: "We use you as the example to show everyone else what not to do." David Beckham, Paul Scholes, the Neville brothers, Ryan Giggs, Wayne Rooney, Cristiano Ronaldo … all of those kids who came through Manchester United at some point all have to thank
Manchester United stars like David Beckham, Paul Scholes, the Neville brothers, Ryan Giggs, Wayne Rooney, and Cristiano Ronaldo subsequently learned an important lesson from Best's life.